"I went to Sea Blossoms with a vague idea and they crafted several options that perfectly captured the vibe we wanted. They are a great team!"
"Know how to make your wedding feel like magic"
The girls at Sea Blossoms know how to make your wedding feel like magic!! Jamie & Meg were amazing to work with from our initial vision meeting all the way through wedding day. They figured out a way to make every thing I envisioned a reality with SO MUCH attention to every little detail! They are very responsive to questions and requests and very professional to work with. I could not say enough good things about my experience with Sea Blossoms. Make sure you ask about drying your bridal bouquet - you will want to keep it forever!!
"They are responsive, flexible, thoughtful, and really know how to make your vision a reality"
"They made the whole process effortless"
"Jamie and Meg are two of the most creative, caring, and dedicated people that my fiancee and I have met on our journey to our wedding day. Anything and everything that I could have imagined, sent pictures of, and dreamed up for our big day - Jamie and Meg were ready to accomplish for our day. If you want someone who will care about your vision from start to finish (and actually be able to deliver well beyond your wildest dreams), use Jamie and Meg. I can't say enough about how amazing they were. The flowers were gorgeous, everything was fresh and beautiful. I have gotten so many compliments on the warmth of our table settings. When we needed votives for the tables in varying sizes, Jamie was able to get them. Meg hand painted our signs, welcome and seating, as well as individual bell jars. Trust these girls!! They will go above and beyond... :)"
"Their attention to detail is incredible!"
Sea Blossoms made my wedding day an ULTIMATE DREAM! These two ladies outdid themselves that day! I was so impressed with the decorations and Floral arrangements, not to mention the bouquets that made me tear up ! These girls really know how to make a brides dream come true! Their attention to detail is incredible and their uniqueness was second to none. I cannot recommend them enough if you are looking for for something special to compliment your big day. They are so friendly, affordable and just AMAZING at what they do! Cheers girls! THANK YOU!
"exactly what I had pictured"
"I cannot put into words how happy we are that we use Sea Blossoms for our florals and decor. Jamie and Meg are sweet and extremely talented. They helped to create the wedding of our dreams! We wanted our wedding to feel like a library in a forest, and Jamie and Meg's decorations far exceeded what we pictured! They created an open book display for behind our bar AND a book chandelier that hung above our dance floor. We asked them to find three bookcases - one for our altar and two for our bar, and they found beautiful bookcases that they filled with books and flowers and these gold figurines. They even did a secret nod to my love of Beauty and the Beast by having a rose encased in glass sitting on the bar! And our flowers!!! I have no idea how they created such beautiful bouquets based on what I said I liked, because I know nothing about flowers! My bouquet was exactly what I had pictured but could not articulate! And, as a bonus, Jamie can dry your bouquet and put them in a keepsake box. Mine is going in a mini-bookcase! Almost the first thing any guest complimented about our wedding was something that they created - whether it be the table decorations, book chandelier, flowers, bookcases, and so on. I definitely recommend Sea Blossoms Bridal for your rental and floral needs!"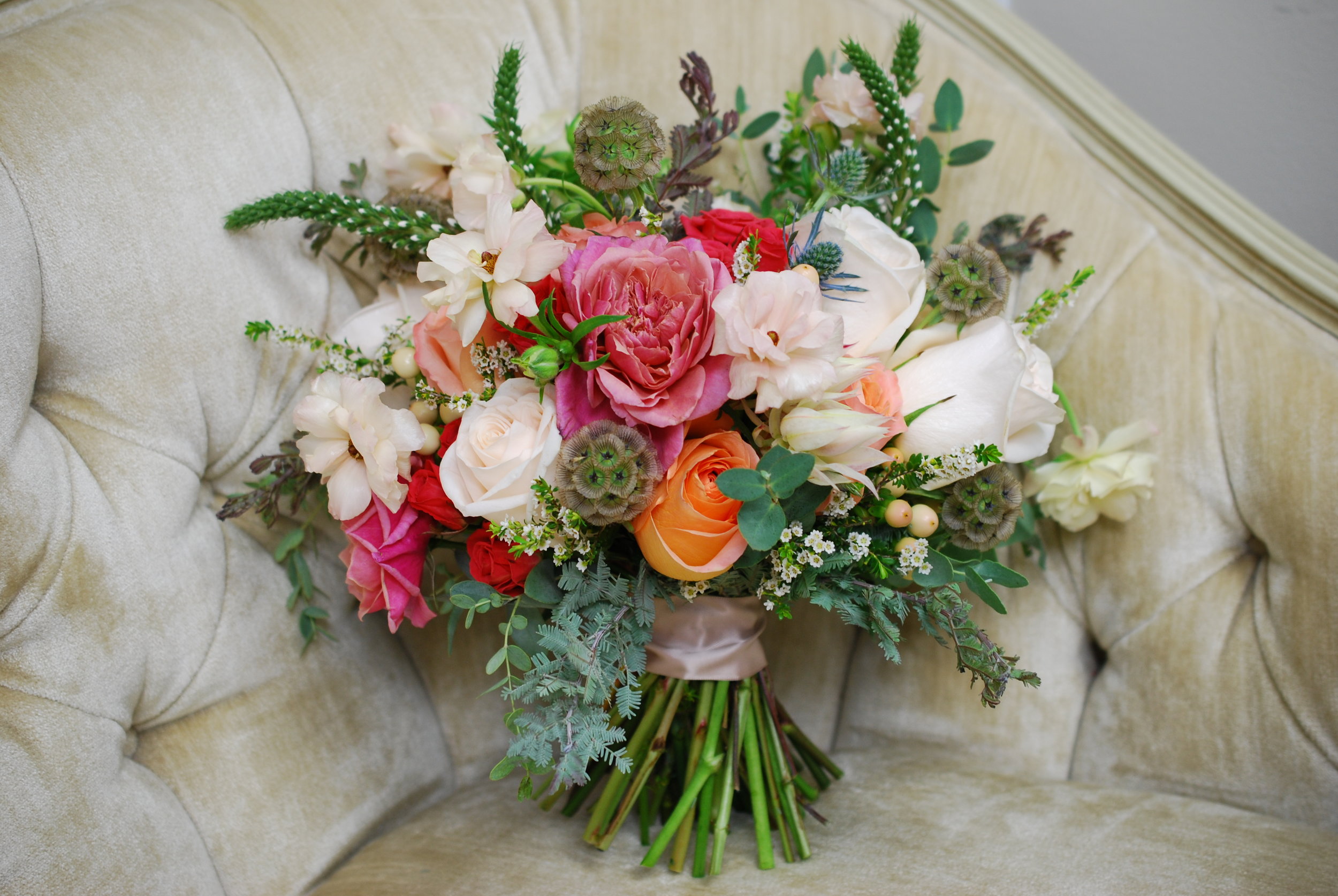 "My bouquets where everything and more"
"Listened to exactly what I wanted"
"Absolutely loved my experience with Sea Blossoms. I'm still in love with our wedding bouquets and my gorgeous hair piece to this day. Working with Jamie was perfect, she is all about all the little details, listens to exactly what you want, adds her amazing creative touch, and then creates absolutely stunning flower arrangements. Exactly what we had envisioned for our dreamy boho beach wedding!! Thank you, Jamie".